Tips to get dark mehendi- This Karwa Chauth
Karwa Chauth is an auspicious festival for ladies wherein they will keep fast for their hubby and will dress up beautifully in the evening to worship their partners in front of moon.
These festivals are picking up their lime due to all the outfits, accessories and get ups of ladies.
In this mehendi plays a very integral part. Besides its cooling property, it is believed to bring good fortune. The darker the color of mehendi gets, the deeper the husband's love will be for his wife.
As you apply mehendi, do follow these tricks to get a lovely dark mehendi color.
Wash your hands thoroughly
This will remove the dirt or cream that you have applied on your hands and mehendi will set properly on your skin.
Eucalyptus Oil
Before applying mehendi, massage gently will Eucalyptus Oil and let it get absorbed completely in your skin. This will suck the original color of the mehendi on your hands
Air Dry
Do not use Blow Dryers and let your hands dry naturally without smudging.
It is ideal to leave it overnight to get authentic color
Vicks
Apply a thick coating of Vicks over your hands when the mehendi gets dry. This will suck the extra color of the mehendi on your hands.
Mixture of sugar and lemon juice
Once it is completely dry and ready to get removed, apply a mixture of lemon juice and sugar with cotton balls. This will help in setting the process. Do not leave it for too long.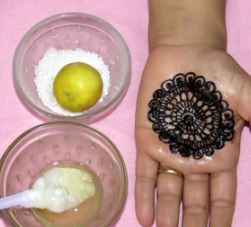 Heat Cloves
Heat cloves in a hot pan and remove the mehendi from your hands. Once they begin to smoke, bring your designed hands in contact of the smoke. Do not overheat your hands.
Mustard Oil
Massage Mustard Oil on your hands and allow it to get absorbed into skin naturally.